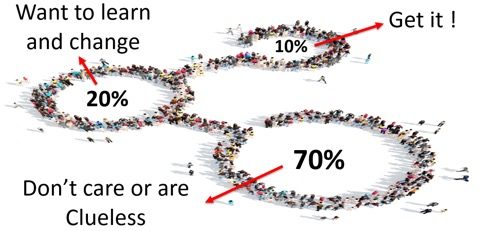 From $300K to a $22 Million Agency in 12 Years
I am going to explain why poaching top performers directly from your competitors is the fastest method for growing your employee benefits agency.  And not only will it upgrade your agency from small groups to middle market, it will create a competitive advantage against the National agencies.
I want you to know that I have never had to present a renewal. I have never had to obtain a Broker of Record (BOR) letter and I have never lost a client.  Over the past 26 years, I have worked with all of the National Human Capital consulting firms, the Big 8 Accounting firms and the Middle Market brokerage firms.    Even though I haven't worked hands-on as a broker or consultant, I know how all of the moving parts (revenue generation, service delivery, talent acquisition) work and  I've learned how to speak the language.
Here's an article I wrote in 2002 about the middle-market brokerage firms
I am the X-Man of this Industry – I get things done behind the scenes.
I will say that my vision of the Industry is from a totally different angle.  That is because it is shaped strictly from telephone conversations with  thousands of individuals, over the years.  In other words, being 'Rookie of the Year", "Top Recruiter" and Founder of an executive search firm, only means that I must have recruited many people and filled many job vacancies.  In other words, I must have know what I was talking about to remain active in the Industry for so many years.
Getting back to extracting top performers – that was the case for a particular agency that will serve as an example of the method for rapid growth.  (Please see the below link for this agency's story.) Since we both shared the same ideology that aggressively recruiting top talent directly from your competitors was most effective method  for growing an agency.  It is from his point of view, I will explain present this ideology..
A Top Performing Service Team
The blueprint for building a fast growing agency is to focus on recruiting only top performers.  By recruiting, I'm not talking about posting an ad on LinkedIn to see if anyone might be actively looking for job.  I am talking about identifying the specific individuals who are not actively looking for a new job – and who will be a great fit for your agency. And by top performers, I'm not talking about the one you liked the best from the pool of applicants that you interviewed; I 'm talking about the ones with proven track records of knocking the "ball out of the park" on a consistent basis. When you are focused on recruiting top talent to grow your agency, the advantages are threefold:
Save priceless time and hard-earned dollars from not having to hire and train a staff;
They will make an immediate impact, in adding value from a productivity and revenue perspective; and
When engaged, they create a high energy environment, and a fun place to work.
Top performers know how to get results, using traditional and the latest technologies – they will help grow your agency, and you will see immediate results, including the following:
Retain more clients
Generate more revenue by up-selling new products and solutions to existing clients
Develop internal tools to leverage vendor and carrier capabilities to reduce cost and to improve efficiencies
Create a high quality service and lower price value proposition
Assist Producers in closing a greater number of large employer clients
The Fastest Method for Growing an Agency
Building a high performing agency starts with letting your competitors do the most time-intensive and the most expensive parts of the business.
You can read more about a high performing agency here.
The most time-intensive parts are the hiring and the training aspects of building a team of professionals who are charged with responsibilities for servicing, managing and expanding the existing client relationships.  Hiring and training will cost you – your priceless time and your hard-earn money.  And, you have to get it right-or else your agency ends up being acquired by a larger agency.
The fast growing agency relies on professional headhunters, instead of hiring and training.
The objective is to allow your competitors to invest their priceless time and their hard-earn dollars into hiring and training, then you rely on your best headhunting partners to identify and extract away their high performers.  When you focus on extracting top performers – you are reaping the rewards of the other agency's investment.
To add some context to this method, let's take a quick look at some of the costs that are associated with hiring and training v. paying headhunter fees to recruit trained talent:
What is the cost of filling a job vacancy?
Posting the job, reviewing resumes, screening applicants, scheduling interviews, re-scheduling interviews, multiple rounds of interviews, aptitude tests, background checks and on-boarding are the steps that are some of the time consuming work involved in the hiring process.  On average, it takes 30 – 60 days to fill a lower level vacancy.  The longer it takes to fill a job vacancy, the more it cost an agency in terms of missing critical deadlines, overworking the present staff and increasing the risk of losing clients.
What is the cost of training a Benefits Administrator?
Generally speaking, it takes 2 – 4 years for a new employee to become productive!  This is the minimum experience required on the typically job postings for a lower level Benefits Administrator.  So, for the first 2 – 4 years, your agency may have to pay two people to do one job; you are paying the trainee and you are also paying the trainer.  This is the hidden cost that is often overlooked.
What are the odds of a new person reaching a productive level, where he/she can work independently and provide a return on the investment in their training?
It depends!  Most trainees, for a variety of reasons, will leave (voluntarily or involuntarily) before they become productive.  If and when that situation occurs, the agency has to re-start the interview and training process all over again with a new person and, most likely, the same outcome.  This particular cost is a combination of filling the job vacancy and training the new employee, multiplied by 2.
What are the cost of utilizing headhunting partners?
The typical headhunter fee is 25% of the hired applicant's base salary.  But, the headhunter's services are free.  The only time you will pay a fee, is if you hire someone who was introduced by a headhunter.  And the only time you will hire someone who is linked to a headhunter fee, is when you are convinced by the job applicant that his/her value to your agency will exceed the amount of the headhunter fee.
So, you can crunch the numbers for yourself, but the hidden value for this method, is that you are weakening the other agencies when you recruit their best people into your agency.  An agency becomes weaker when they are losing clients as a result of losing their top performers.
Here's how an agency becomes weaker:
You make their lives harder and their workdays more difficult, because you denied them of a huge return on investment (ROI) from their priceless time and hard earned dollars invested into hiring and training a high performer – who slipped through their fingers.
Your agency is perceived as a winning agency because you are reaping the present and future rewards of their investment, while they are forced to re-group and invest more of their priceless time and hard earned dollars invested into hiring and training your possible next new hire.
When you are using their own investment to compete against them, it is equivalent to doing a dance, after returning an interception for a touchdown.
 It is your priceless time and your hard-earn dollars and the risk associated with hiring the right people, that will provide the greatest disadvantage, in growing a successful agency.
What is the one thing that is preventing you from generating more revenue in order to grow your agency?
A good way to find out is to take a look at your present team. As a second step, take a look at your method for recruiting top performers.  But before you do that, you want to keep in mind that you are not in the insurance business; you are in the insurance advisory business.  And when you are in the business of giving advice, it is your people who are the true revenue generators.  It simply means that the agency with the best advisors will win more business – just like a team with the best athletes will win more games.  In this business, you have to win the best people in the game in order to win more clients to generate revenue. So, make sure that your talent acquisition strategy is not one where you are throwing away future dollars because you are more focused on holding-on to today's pennies.